An:

The Belarusian regime
Free Maria Kolesnikova and all political prisoners in Belarus!

Libereco - Partnership for Human Rights (EN)
Diese Kampagne wurde beendet.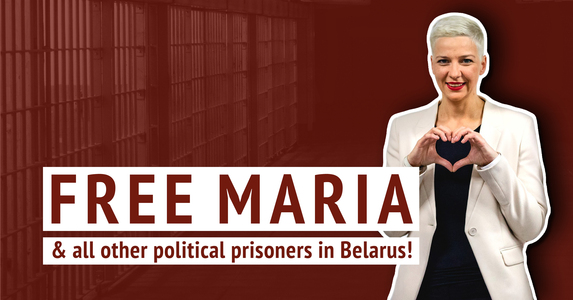 Warum ist das wichtig?
Since the presidential election in August 2020 in Belarus, people are being detained daily. According to the OSCE, the presidential election was rigged.
In 2020 and 2021, independent observers counted more than 40,000 politically motivated arrests and documented more than 1,800 cases of state torture.
Currently more than 1100 people have been jailed for political reasons. Belarusians are confronted daily with violence, arbitrary arrest, torture and repression against citizens, human rights organisations and independent journalists.
The regime of dictator Alexander Lukashenka, who has been in power for more than 27 years, is willing to use any means to stay in power.
We declare our solidarity with all politically persecuted people and demand the immediate and unconditional release of all political prisoners in Belarus.