An:

UEFA President Aleksander Čeferin
Euro 2024 exclusion of Belarus: Red card for enemies of human rights and warmongers

Libereco - Partnership for Human Rights (EN)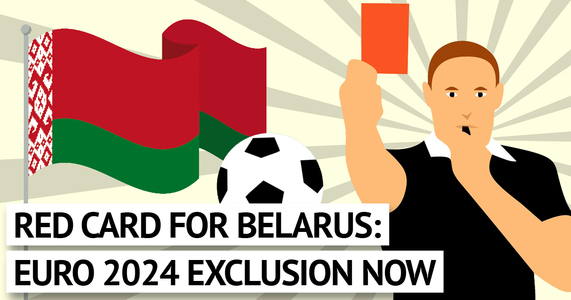 français : https://act.campax.org/petitions/exclusion-de-belarus-de-l-euro-carton-rouge-pour-les-ennemis-des-droits-de-l-homme
italiano: https://act.campax.org/petitions/esclusione-della-bielorussia-dagli-europei-cartellino-rosso-per-gli-anti-diritti-umani
deutsch: https://act.campax.org/petitions/em-ausschluss-von-belarus-rote-karte-fur-menschenrechtsfeinde-und-kriegstreiber
**********
Dear Mr Čeferin
We call on you to immediately exclude Belarus from the 2024 European Football Championship!
More than 1400 political prisoners are imprisoned in the prisons of the Lukashenko regime - among them the winner of the Nobel Peace Prize 2022, Ales Bialiatski.
The innocent detainees are sentenced to draconian prison terms for political reasons in unfair and often secret trials. In prison, they are defenceless against further harassment, torture and abuse.
UEFA must no longer turn a blind eye to this crime against humanity in the middle of Europe and must stand by its commitment to respect human rights!
In addition to the violent repression of its own population, Belarus also supports Russia's war of aggression against Ukraine. UEFA has consequently excluded Russia from the European Football Championship. In the case of Belarus, UEFA must finally act just as decisively!
Belarus is in fact a party to the war and provides Russia with deployment areas and bases for attacks on neighbouring Ukraine. The Ukrainian government and independent observers regularly report missile strikes and attacks by warplanes from Belarusian territory.
As long as Nobel Peace Prize winner Ales Bialiatski and more than 1400 people are innocently imprisoned and Belarus also supports the Russian war of aggression against Ukraine, the country must be excluded from the European Football Championship and all other competitions.
Mr Čeferin, set a sign for the respect of human rights and stand by the political prisoners in Belarus and the victims of the war in Ukraine! Exclude Belarus from the 2024 European Football Championship immediately!
Warum ist das wichtig?
In 2021, UEFA made a commitment to respect and promote human rights in all areas of football in its Human Rights Commitment.
UEFA refers to the United Nations Universal Declaration of Human Rights, the International Covenant on Civil and Political Rights and the European Convention on Human Rights, among others.
The Lukashenko regime's terror against its own population is in grave violation of all these human rights conventions. If UEFA is serious about its commitment to respect human rights, it cannot remain silent about the crimes in Belarus and must exclude the country, like Russia, from the 2024 European Football Championship and all other competitions.
UEFA did exclude Russia from its competitions in March 2022, but not Belarus. Instead, it merely decided that Belarus must play its home matches on neutral ground and without fans. With this incomprehensible decision of "a bit of punishment" against Belarus, UEFA makes itself completely untrustworthy in its self-proclaimed commitment to human rights.
UEFA now has a great opportunity to do better in terms of respect for human rights than FIFA did with its awarding of the World Cups to Russia and Qatar.
UEFA can send a clear signal that countries like Belarus, which violate human rights in the most serious way and support a war of aggression that violates international law, are not welcome in the European football family.
From a playing point of view, Belarus' exclusion from the European Football Championship is not a problem. After the exclusion of Belarus, Switzerland's European Championship qualifying group would comprise five teams - the same number as seven other qualifying groups.