An:

University Directors of Belarusian universities
Stop the repression against Belarusian students!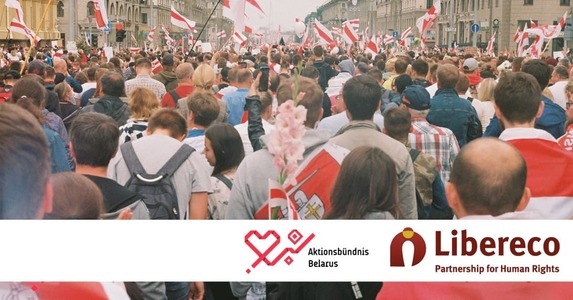 Deutsche Version: https://act.campax.org/p/belarus-studierende
Version française: https://act.campax.org/p/belarus-etudiants
Versione italiana: https://act.campax.org/p/bielorussia-studenti
***
Dear Sir or Madam University Director

Since the enormous falsification of the presidential election results by Lukashenka on 9 August 2020, thousands of people in Belarus have been demonstrating on the streets peacefully. The protestors demand the resignation of the autocrat and an end of the massive violence.

The protests, which have been going on for months, are mainly supported by students at your university. The students at your university are therefore victims of severe repression, arbitrary arrests, abuse in prison or expulsion from the university for political reasons.

In your responsibility as director of a Belarusian university, we call upon you to stand clearly and unequivocally behind your students and to stop any kind of repression against them. Take a personal stand for the release of all detained students and guarantee personal safety for all those who study and teach on the campus of your university.

We call to stop and withdraw all politically motivated removals from the register of students. We urge to make a personal plea to the Minister of Education to ensure that scholarships are not revoked because students take part in protests or are being detained.

With these demands, we join a joint declaration of the Belarusian student organizations.
Warum ist das wichtig?
Together with the Coordinating Council under presidential candidate Svetlana Tikhanovskaya, students in Belarus are calling for the resignation of autocrat Lukashenka, an end of the massive violence against peaceful protesters, the immediate release of all political prisoners and free and fair elections. In the past three months alone, 144 students have been expelled from universities for their political activities and at least 380 students have been arrested. The security apparatus and the university management often work together. There have been numerous arrests on campus grounds.
In liberal democratic countries, it is taken for granted, that universities operate as autonomous institutions and a wide variety of bodies have a right of co-determination. Students and university staff, professors and academics in democracies enjoy the privilege of academic freedom. This is not the case in Belarus, neither for the students nor for teachers.
The numerous removals from the register of students and arrests of politically engaged students are proof that Belarusian students cannot develop freely at Belarusian universities and no longer feel safe.
The initiators of this petition are the Students Solidarity Alliance Belarus, which stands up for students in Belarus, and the human rights organization Libereco - Partnership for Human Rights, which is engaged for human rights in Belarus and Ukraine.
For further information, please visit
https://aktionsbuendnis-belarus.de/ and https://www.lphr.org/