An:

Mayor Corine Mauch, City Council and ZKB
Save the ZKB Pavilon on the Landiwiese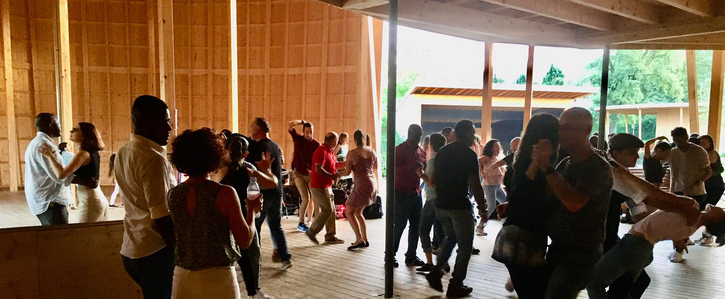 We would like the City of Zurich to provide unbureaucratic cultural open spaces like the wooden pavilion on the Landiwiese!
Demands on the City of Zurich and the ZKB:
1) The ZKB wooden pavilion must be permanently preserved as a living cultural open space and integrated into the Landiwiese redevelopment concept.
2) The city should create more outdoor cultural open spaces that can be used for dance and other cultural meetings in an uncomplicated and unbureaucratic way. These open spaces should be covered, equipped with wooden flooring or danceable flagstone flooring, and maintain sufficient distance from residential neighbourhoods.
Warum ist das wichtig?
The ZKB pavilion is to be dismantled this September as part of the renovation work on the Landiwiese. However, there is a great need for outdoor spaces in the city of Zurich that can be used unbureaucratically, non-commercially and spontaneously for meetings - even in bad weather. The lively use of the ZKB pavilion on the Landiwiese by dance groups and other communities of interest has shown this.
The Corona virus and the associated restrictions on indoor spaces have made the city's population discover the joy of outdoor space and thus increased the pressure on the few existing covered outdoor spaces in the city of Zurich . This new-found enjoyment of outdoor space will continue beyond the pandemic and calls for permanent solutions.
The ZKB pavilion and other open spaces to be created should be able to be used in the longer term by all generations in a non-profit and uncomplicated way - without any permit procedures that require payment. The spaces must be located at a sufficient distance from residential areas where residents feel disturbed by noise and conflicts quickly arise. They must be roofed over so that they can be used even when it rains. The dance community in Zurich, one of the larger interest groups, depends on danceable floors, e.g. made of wood or smooth slabs.
P.S. Everyone can sign this petition, even without a Swiss passport.